As Australia's education sector faces increasing financial pressures, providers need innovative funding solutions to adapt to the changing landscape.
The education sector is undergoing one of the biggest changes in recent history. As the pandemic and its effects continue to unfold, so do estimates of how much it will cost the sector and our overall economy in revenue and jobs. While the loss of international student enrolments is impacting the revenues of universities and Commonwealth Register of Institutions and Courses for Overseas Students (CRICOS) providers, there are a range of related factors disrupting the entire sector.
Education providers across the board are facing enrolment pressures as students struggle on reduced incomes and require more flexible payment options.
Meanwhile, the rise in short and vocational courses, and the major growth forecast for online learning are opportunities that require different business models. This paper looks at the changing environment education providers are operating in, and how innovative student finance solutions can help them adapt for survival and ultimately, for growth.
The revenue crisis
International education's contribution to our economy is well documented, as is the higher education sector's reliance on foreign student fees – reported as 27% of university operating revenue in 20191.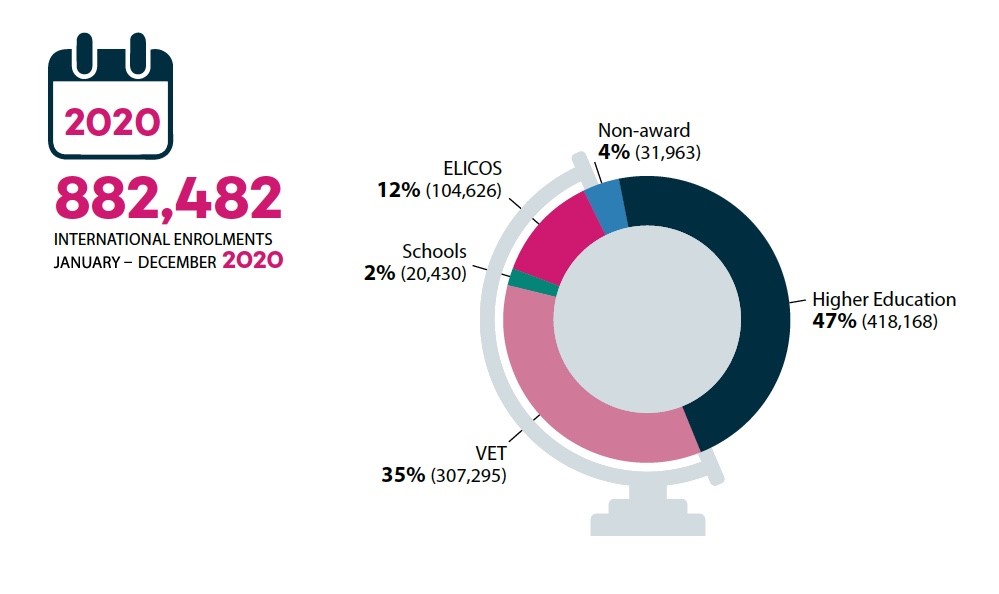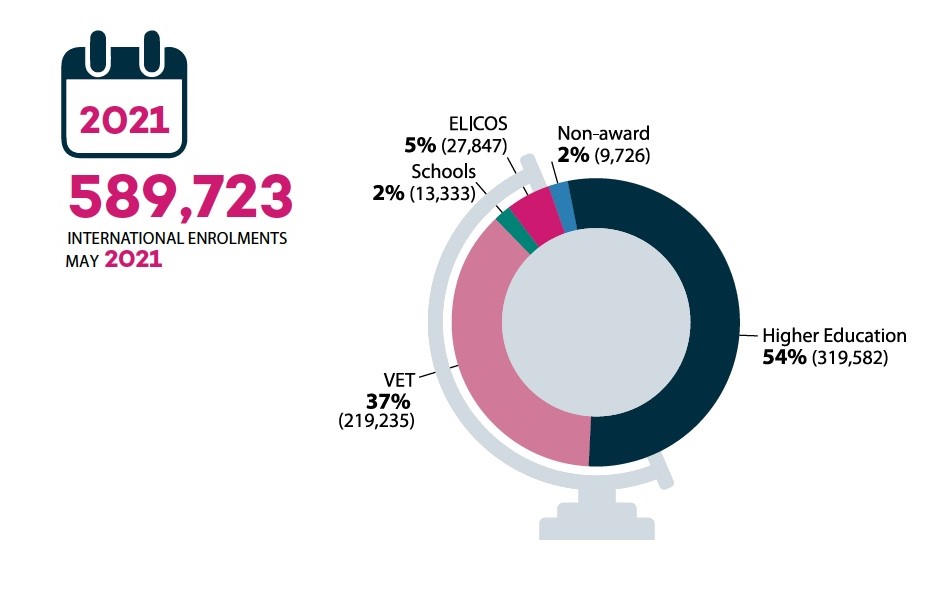 Whilst it's evident that COVID-19 has restricted international student enrolments in our universities and with CRICOS providers, it is unclear exactly how much it will reduce revenues over time. The overall economic cost to the Australian economy in 2020 was $6.8 billion2, and has been estimated to cost as much as $18 billion3.
Many universities are grappling with major shortfalls, with 15 of the 30 that reported their financial positions in 2020 in deficit compared with only three the previous year.
The Australian Financial Review, 14 July 2021
Industry commentators warn the magnitude of the international student slump will be a slow burn over several years. There are many uncertainties, including Australia's vaccination program timeframe and whether Chinese students, who were more likely to shift their studies online in 2020, will continue to do so.
Even when the pandemic is finally over, there are serious doubts about the ability for international student numbers to return to previous levels. Some have questioned whether they should, and called for caps to avoid over-reliance in the future.
The Australian Government's Job-ready Graduates Package of reforms, announced in October 2020, has added to universities' revenue woes, at least in the short term. The reforms include major changes to tuition fees and government subsidies, cutting the cost of studying science, technology, and engineering, while more than doubling the cost of humanities subjects, such as political science and philosophy.
These changes to the course cost landscape will take some adjusting to. Already universities are cutting courses and jobs, adding to tens of thousands of jobs lost due to the combined effect of the reforms and international student losses.
Student pressures affecting providers
COVID-19 has reduced many people's incomes and added uncertainty where it didn't previously exist.
Students are a particularly vulnerable group, working in the hardest-hit industries of hospitality, events and other forms of more casual employment.
As students' incomes are reduced and become increasingly unreliable, they are less able to fund their living and student expenses or to feel confident enough to plan for them. In turn, this impacts all education providers from universities to registered training organisations (RTOs) and private providers.
At the same time, the changing payments landscape means students expect more flexible payment options in all areas of their lives. In particular, millennials are choosing buy-now-pay-later (BNPL) methods driven by payment digitisation and an aversion to credit cards and interest charges4.
These disruptive factors point to the need for student finance solutions to act as positive levers for the sector's survival and future growth.
New opportunities require new models
The economics of COVID-19 look set to further drive the pre-pandemic trend towards shorter courses, as people look to upskill or reskill in changing job markets. Shorter courses are typically more affordable than degree studies or longer courses, and often provide a pathway for career changes that evolve over several years.
Vocational courses are also expected to benefit from the pandemic's effects, where they are perceived to have more certain and stable job outcomes. These opportunities are skewed towards RTOs, but other education providers could also adapt their offerings in some areas.
Across the sector, there is a major online learning opportunity. The global online learning market is forecast to grow from $130 billion to more than $470 billion by 20265. This shift was already underway before the pandemic due to a global desire for lower-cost learning and greater flexibility in how and where people study. COVID-19 lockdowns and border restrictions look set to accelerate it.
In Australia, we have already seen a willingness from our largest international cohort – Chinese students – to shift to online studies. However, Australia-China tensions threaten this. Our second largest international cohort – Indian students – largely abandoned their studies in 2020 preferring a cultural experience and face-to-face learning. This represents a huge opportunity to appeal to this market in new ways.
Current options fall short
In a changing environment, education providers need student finance to enable their adaptation. However, most options fall short. Many education providers are offering BNPL to students but most third-party providers of this are not specialised in education finance and typically accept only about 20% of student applicants. If not accepted, students can bounce between providers and ultimately give up.
Non-bank financial institutions (NBFI) will consider lending to students but with very high interest rates of 20-30%, this is not a great alternative for them. Other students use instalment payment plans if the education provider offers this option. However, this comes with many challenges. Providers are reliant on a range of external parties to manage payments, which is inherently inefficient and brings an administrative burden. This leads to working capital challenges and lost revenue, both of which have been exacerbated by the pandemic.
Complete student funding solution
As an education finance specialist, ZeeFi understands the particular challenges that education providers face. Its complete solution offers a product combination and end-to-end service that seamlessly onboards and manages all students.
This unique solution involves:
Study Now Pay Later – the only BNPL option specially designed for the education sector with competitive pricing and higher acceptance rates
Payment Assist – a complete outsourced onboarding, repayment, and collection service for an education provider's own student instalment plans, with higher recovery rates and reduced costs. Payment Assist also enables a range of innovative working capital funding solutions offered by ZeeFi, enabling education providers to monetise instalment payments sooner
The process is simple and designed to maximise enrolments and revenue. Education providers simply send a ZeeFi link to students, who use it to apply for Study Now Pay Later. If they are approved, ZeeFi onboards and manages the entire process. If a student doesn't meet the underwriting criteria, they will move to Payment Assist, which ZeeFi also manages from end-to-end. It collects instalments, chases late payments and handles hardship situations in line with agreed parameters and using its experience in working with students.
Bespoke reporting ensures education providers have all the data they need to make smarter decisions around student acquisition and how to better target their marketing and enrolment efforts.
The ZeeFi solution also provides two options to further improve cashflow. It can buy an education provider's book of instalment plans, releasing the revenue from existing or legacy portfolios and removing the risk of non-payment. It also offers providers the option to use their payment plans as security to access cash advances, with no early repayment fees. These two options are available to all providers, including those with payment plan books of international students.
As the education sector continues to undergo major change, the ZeeFi solution gives providers certainty about one crucial factor within their control – student finance. By increasing enrolments and improving cashflow, it enables providers to focus on education and adapting to the challenges and opportunities they face.
Study Now Pay Later is a purpose built BNPL product for students. Other BNPL products are used for anything from shoes to TVs, and aren't designed for the nuances of education finance. That's why ZeeFi is able to accept more than the standard 20% of applicants – because it understands student lending and is set up specifically for it.
How the ZeeFi solution works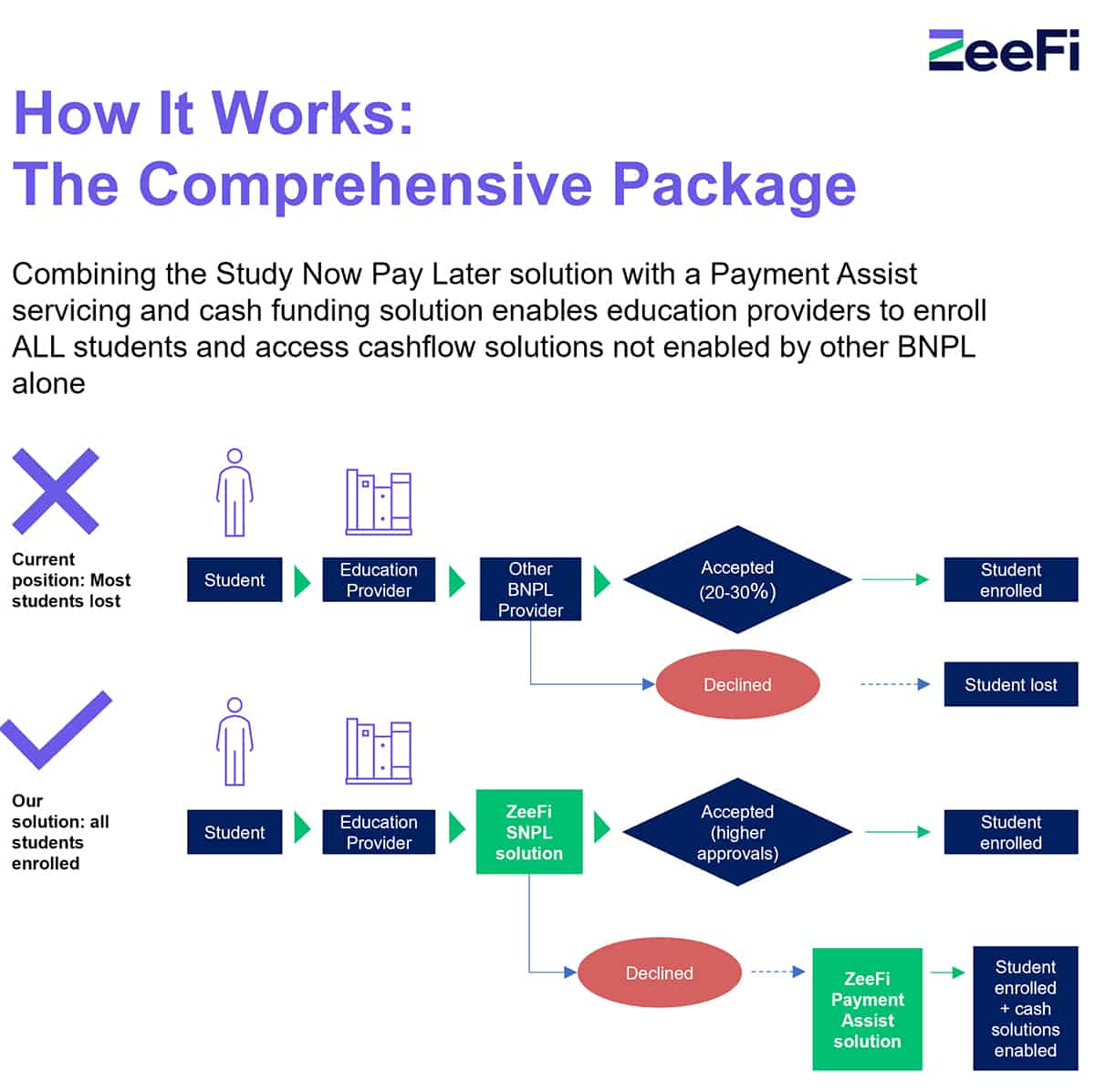 Find out more
Click for more information on Study Now Pay Later.
If you'd like to join the education providers who are already using our Study Now Pay Later finance solutions to power their futures, please get in touch.
1 The Age, 10 March 2021
2 International Trade in Education Services, Australian Bureau of Statistics, June 2021
3 The Age, 3 April 2021 (see also 5368.0.55.004 – International Trade: Supplementary Information, Calendar Year, 2020. Australian Bureau of Statistics)
4 https://www.savings.com.au/buy-now-pay-later/why-buy-now-pay-later-is-so-popular-with-millennials
5 The Australian Financial Review, 31 March 2021
ZeeFi is Australia's fintech partner to the education sector, creating a one-stop shop for education providers to optimise their student finance and working capital funding arrangements. ZeeFi provides education providers and their students with a study now, pay later payment solution, loans and cash flow funding facilities to support students undertaking both vocational and higher education courses, where government funding is unavailable.